Regular Ground Shipping*
Supplies Total (under $350) $14.95
*Does not apply to badge totes, tote bags, pens.
Regular Ground Shipping*
Supplies Total ($350 and over) FREE
*Does not apply to badge totes, tote bags, pens.
FedEx 2-Day / 3-Day / Overnight
Your order confirmation will detail the shipping charges. Cost will vary with order size.
*Exceptions:
Remote Areas: Shipping surcharges may also apply to remote areas.
BadgeTotes: Additional ground shipping charges will apply for shipping BadgeTotes. Call or chat with us to confirm the shipping cost, based on your ship to location, or submit your order and we'll confirm shipping costs with you before shipping your order.
(Free shipping does not apply to BadgeTotes.)
– any additional shipping charges will be listed on the order confirmation you receive.
Note: There is a $5.00 handling charge for any shipments sent collect on your courier account.
Ground Shipping Standards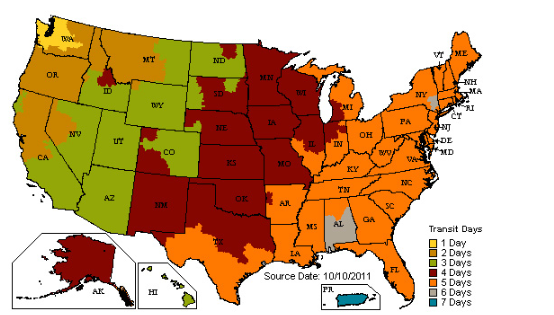 Shipping from Vancouver, BC Warehouse:
FedEx International Economy – typically 2-3 business days to major city centers
Shipping from Point Roberts, WA
1 -2 business days: WA, ID, OR, NV, CA
2-3 business days: OR, CA, ID, NV, WY, UT, AZ, CO, ND
3-4 business days: CO, NM, TX, OK, KS, NE, SD, ND, MN, IA, MO, WI, IL, IN MI
5 business days: WI, MI, IN, IL, AR, TX, LA, MS, AL, GA, FL, SC, NC, TN, KY, WV, VA, OH, PA, NY, VT, ME, NH, MA, RI, CT, NJ, DE, MD
Please confirm if your order is time sensitive.