Name Badge Holders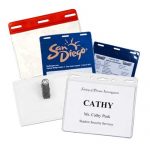 Name Badge Holders
Our premium vinyl Name Badge Holders come in a variety of sizes, with or without attachments. All of our Name Badge Holders can be used with any of our Lanyards. Badge holders are made of a durable 10 gauge vinyl material, making them perfect for single or multi-day use. Check out our new Biodegradable options too.

Questions or need help ordering?
Contact us: 1-800-665-3775 | sales@mybadges.com

Thank you. We appreciate the opportunity for your business.