Vertical Badge Holders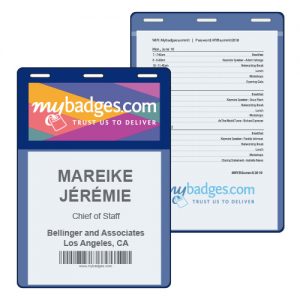 Vertical Badge Holders
Our vertical badge holders display larger credentials at conferences, trade shows, athletic venues, concerts, and other events. Made from 10 gauge vinyl, they are sturdy and pliable. Perfect for multi-day events.
Badge holder sizes are based on insert size.
Questions or need help ordering?
Contact us: 1-800-665-3775 | sales@mybadges.com

Thank you. We appreciate the opportunity for your business.