Description
Item# 1118-SSDNT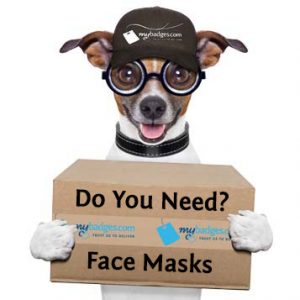 Mask Minder Lanyards for Facemasks.
Combine your order with our Dye Sublimated face masks.

Support your mask with these dye-sublimated mask lanyards. They make a great canvas for your complex and colorful artwork. Produced on our soft but sturdy satin material, these lanyards provide incredible imprint detail and display your design with photographic quality.
Keep your face mask around your neck with these facemask lanyards. Perfect for circumstances that involve you having to take your mask on and off often. Most popular in schools, hospitals and workplaces they are also available in a variety of colors.
Hands-free and convenient. Reduces the risk of mask contamination.
Always have your face mask handy and available to use.
Avoid having to reach or dig into your pocket or bag.
Don't lose, misplace, or forget your facemask.
Great for when you take a break during work, or eating or drinking.
Keeps you from accidentally setting your facemask down on an unsanitary surface.
Perfect for children to use in school from accidentally using other's mask!
Easily unclip and attach your clean masks.
Note: This item is lanyard only and does not include a mask.
Ideal for multi-colour, half tone designs and photographic imprints. Perfect for conferences, schools, offices and hospitals. We suggest a 28″ length, however you may choose any length you want.
Price includes a digitally sublimated 4-colour process on both sides and 2 standard attachments
Fast domestic production to meet your in-hands date.
(Overseas production available at a reduced cost, call us!)
Available widths: 5/8″, 3/4″, 1″
Uncut logo on the front / step and repeat on the back
Questions about your order? We are here to help.
Call: 1-800-665-3775  Email: sales@mybadges.com  Use Live Chat 
P/N: mask minders, maskminders, mask lasso, mask lassos, mask keeper, mask keepers, mask holder